The Boston MFA has begun a program called "Contemporary Outlook" where they will have small focused exhibitions examining trends and ways of looking at art that has emerged in recent years. An
exhibit
they're showing now is on Japan including artists Yayoi Kusama, Takashi Murakami, Daido Moriyama, Mariko Mori, and Chinatsu Ban. The show is miniscule and worth dedicating no more than 45 minutes to, but the work is compelling. I'd recommend seeing it if there's something else within the museum you'd also like to see, as general admission can run you $17/person.
The work I found most compelling was done by
Yayoi Kusama
, a woman who experienced hallucinations since childhood of dots covering her visual field. She began covering surfaces with these polka dots, and they became the trademark of her work. She calls these dots "infinity nets." For years, she was in contact with Georgia O'Keefe, Joseph Cornell and Donald Judd. Her work is difficult to categorize, as she's been placed in categories of feminism, minimalism, surrealism, pop, and abstract expressionism, though she describes herself as an obsessive artist.
Arguably more influential is
Takashi Murakami
, who had a solo show at the MFA in 2001. He shows an obvious attraction to contemporary pop culture, especially anime (animation) and manga (cartoon). Like Andy Warhol, he takes low culture and repackages it as fine art. Unlike Warhol, he also makes his repacked low culture available to all other markets (reminiscent of Claes Oldenburg) in the form of paintings, sculptures, videos, T-shirts, key chains, mouse pads, plush dolls, cell phone caddies, and Louis Vuitton bags.
For more on the exhibit, check out the
website
or view this
podcast
.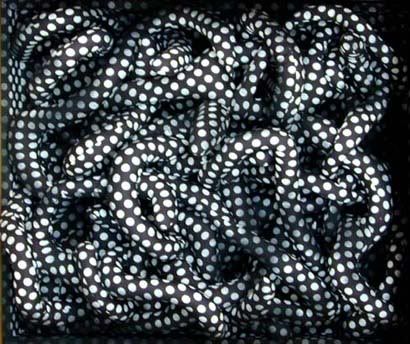 Yayoi Kusama, "White Dots," 2000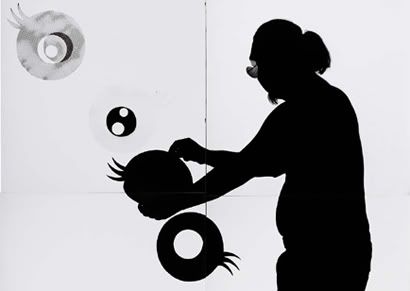 Kunie Sugiura, "Takashi Murakami", 2003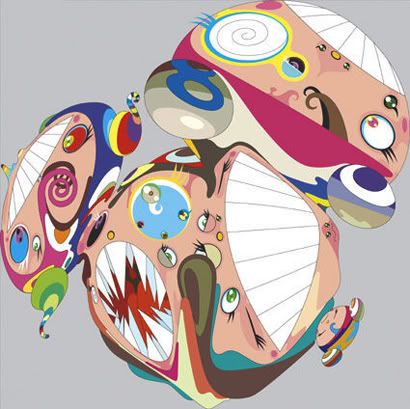 Takashi Murakami, "Melting DOB E", 2006